N1Bet Nigeria Online Sports Betting Site
N1Bet is an online betting platform owned by N1 Interactive Africa LTD. This online betting platform operates with a Malta Gaming Authority license and is active in several countries globally. N1 Bet also complies with local laws in Nigeria.
What's more, in Nigeria, the N1 Betting platform has a license from the National Lottery Regulatory Commission. You can read more about N1 Bet and its licensing on the official N1Bet website About Us and FAQs pages.
N1 Bet provides the best betting odds online. You'll find games in dozens of sports betting categories at this online betting site. Popular N1 Betting categories include football, tennis, and basketball.
Besides offering the best betting odds online, this online betting site provides juicy bonuses on sign-up for every player. You also get plenty of freebets and a variety of odds methods when playing at N1 Bet.
This online betting site collaborates with SoftSwiss to bring you robust, up-to-date sports statistics. Before staking on any team, you can view sports statistics for all N1 Betting categories. This helps you decide which teams to back and which betting odds online will fetch you the most profits.
N1 Bet has a friendly and responsive support team that's active 24/7. You can access them via live chat anytime you need clarifications or help with anything on the N1 Betting site.

Official N1 Betting Site
The official N1Bet website has a clean user interface with a dark theme and green and red brand colors. The text is easy to read, and navigation is intuitive.
This online betting site is optimized for mobile and desktop playing. Navigation differs slightly on the N1 Bet mobile and desktop sites. However, accessing all the features you need is pretty straightforward regardless of the device you use in browsing the N1Bet site.
You can view live games and upcoming matches on the N1 Bet homepage. You'll also see betting odds online next to each fixture. In addition, you can view details about all the odds methods and markets for each game by selecting any you find interesting.
The homepage features games from various N1 Betting categories, especially football, and basketball. But if you'd like to see only fixtures from a specific N1 Betting category, select that sport from the options in the navigation bar. You can also sort your options to include only live events at N1Bet.
Our online betting site lets you view comprehensive sports statistics for live and upcoming matches in the lobby. Use this information to see if the betting odds online favor the team you're backing. If you want even more detailed stats, use the N1 Bet Statistic Center.
N1Bet publishes the names of its partners in the footer section to help you understand the casino better. If you have further questions about N1 Bet, contact the support team via live chat. The N1Bet support communication channel is open 24/7.
Signing Up Process
Registration on the official N1 Bet site takes only a few seconds.
Follow these simple steps to create your N1 Betting account for free:
Select the sign-up option from any page on the N1Bet official site
Fill in your username, surname, email, and password
You'll also need to provide your phone number and country
Tick the box confirming you're up to 18 years old and create an account
Open your email and follow the link sent to you to confirm your N1 Betting account.
That's all you need to begin betting on matches at N1Bet. Start enjoying the best betting odds online immediately after setting up your account on this online betting site.
While creating your N1 Betting account, N1 Bet automatically sets your currency to NGN. This process makes it easy to fund your N1 Betting wallet immediately after signing up. After that, you can make deposits using several channels.
N1Bet gives you many fantastic bonuses immediately after signing up. These bonuses come in the form of combos for different online betting categories. You can use these to multiply your wins and make freebets when staking on games at N1 Bet.
Funding Your N1 Bet Account
Fund your wallet to take advantage of the betting odds online at N1 Bet. This online betting platform accepts payments through many channels, such as card payments and bank transfers.
N1Bet has partnered with notable Nigerian fintech companies like Flutterwave to make payments accessible to every Nigerian player.
However, you must complete your profile before making transactions on this online betting platform. Details you need to fill in include your zip code, address, gender, and date of birth.
After completing your profile, select deposit from any page on the official N1 Betting site to begin. Accepted payment channels include:
USSD transfer
Card payments using VISA and MasterCard
Bank transfer
All you need to do is select your preferred payment method, fill in your details and the amount you want to deposit, then confirm your payment. N1Bet will fund your N1 Betting account immediately after the payment is successful.
N1 Bet will give you a juicy welcome bonus when you fund your account. This bonus is 300% of your deposit up to 1,000,000 NGN.
Sports Odds Methods
With over 30 unique sports and hundreds of odds methods to choose from, you can't go wrong playing at N1 Bet.
The betting odds online at N1Bet are presented in European format. You can view these betting odds online next to any match you want to bet on. If you prefer N1 Bet to present your betting odds online in a different format, you can always change it.
Other options for your betting odds online at N1Bet include British, American, and many more. Regardless of the format you use, you still get the best betting odds online in all the sports categories available at this online betting site.
Select any game you're interested in to see the odds methods applicable to it. The odds markets vary between fixtures and N1 Betting categories. Football, basketball, tennis, hockey, tennis, volleyball, and handball have the highest number of N1 Betting options and tournaments.
However, you'll still find dozens of N1 Betting categories like boxing, rugby, and cricket with several tournaments and betting odds online. At N1Bet, you can also bet on very niche sports like darts, futsal, and water polo with excellent betting odds online.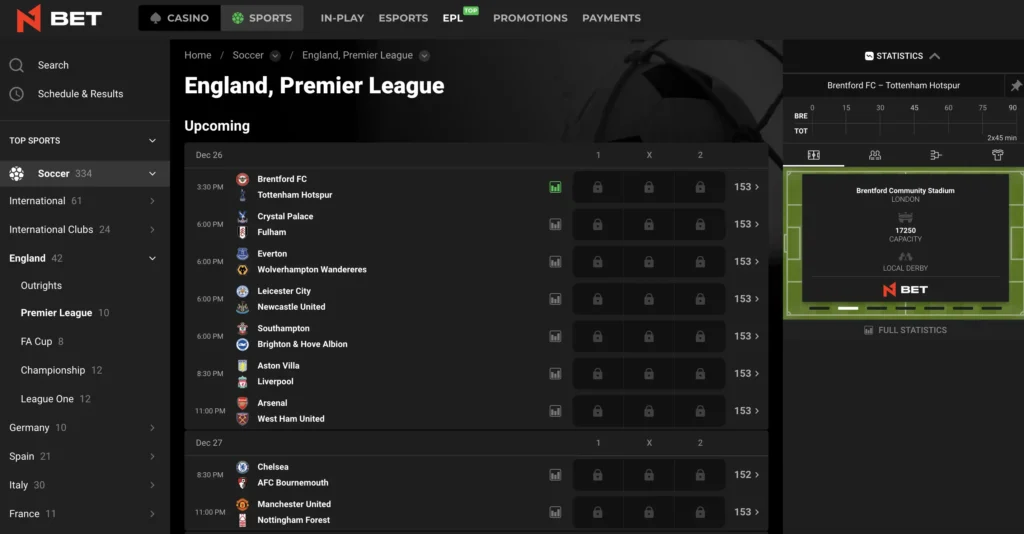 Betting on Football
Football isn't just the most popular N1 Betting category at N1 Bet. It's the most popular sport worldwide. With over 800 distinct tournaments from various regions around the globe, football has the highest number of odds markets at N1Bet.
There are thousands of fixtures from popular and local leagues with excellent betting odds online. Common odds methods you'll find in most matches and tournaments are outright bets, handicap, total, and score bets.
Betting on Volleyball
Enjoy fantastic betting odds online when you stake on volleyball matches at N1Bet. You'll get fine picks in the volleyball odds markets whether you're betting on Live or upcoming matches.
N1 Bet gives you the option to stake money on a diverse collection of volleyball tournaments. This online betting site features international championship leagues and local leagues, such as the V league in South Korea.
Pick a match from any of the leagues available on this online betting site to get started. Next, check the odds markets, and if you like the betting odds online, add it to your betting slip.
Betting on Hockey
Ice hockey is a popular sport at N1 Bet. These games always have great betting odds online any player can take advantage of. So if you're a hockey fan, you'll enjoy this N1 Betting category.
You can place several bets in the odds markets at this online betting platform. These include popular odds methods like outrights, handicap, and total bets.
Betting on Basketball
Bet on your favorite NBA teams at N1Bet. There are nearly 200 tournaments from across the globe you can stake on at this online betting site.
Enjoy irresistible betting odds online when you stake on basketball games at N1 Bet. You'll find dozens of odds methods like set winners, totals, and handicap bets.
Betting on Tennis
With over 200 tournaments in several leagues from around the world, the tennis N1 Betting category has the second-highest number of events at N1 Bet.
Select tennis fixtures to view the odds methods available to you at N1 Bet. You can stake on upcoming or live matches with odds markets like sets, handicap, score, and combo bets.
Betting on Cybersport
Cybersport is a unique N1 Betting category with fantastic betting odds online. The games are virtual and include Call of Duty, Counter-Strike, E-Soccer, and League of Legends.
These games have similar odds markets to traditional sports. You can stake on live or upcoming games in markets like map handicap and total map.